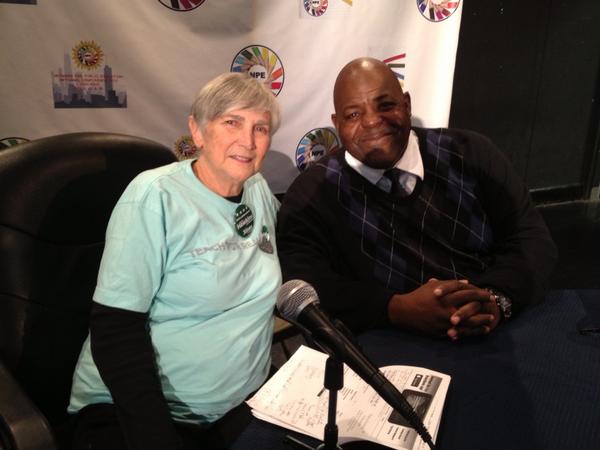 ...from National Public Education Network's #PublicEdNation event, October 11, 2014. For an event recap that also talks about both education blogging and involving higher education in the quest to #ReclaimEducation from corporations and "education privateers," read Russ Walsh's "Hangin' at Public Education Nation" with 200 hundred or so Badass Teachers, bloggers, school administrators, college professors, parents and students.

Yes, bloggers are making a difference -- so will connecting more ed bloggers, whether across borders or discipline and category silos. Or as the

adjunked professor

commands us adjunct and precarious bloggers,

blog on!
Public Education Nation videos still MIA:
Testing and the Common Core:
New York Principal of the Year Carol Burris leads a discussion with educators Takeima Bunche-Smith, Rosa Rivera-McCutchen and Alan Aja.
Support Our Schools, Don't Close Them: Chicago teacher Xian Barrett moderates a panel featuring education professor Yohuru Williams, Hiram Rivera of the Philadelphia Student Union, and a representative of the Newark Student Union.
...and the not to be missed closing event,

Diane Ravitch and Jitu Brown, In Conversation: The event finished off with a conversation between leading community activist Jitu Brown and Diane Ravitch (both pictured above), who talked about building a movement for real improvement in our schools. Until the video is archived, here's a Bill Moyers interview with Diane Ravitch. You can fill in some gaps following the #PublicEdNation tag on Twitter. @CPFA_forum, @AddieJunked, @precariousfac and @VCVaile followed the event from afar, retweeting posts of particular interest to our "ad-junked nation,"
Meet Jitu Brown in this short video about his Journey for Justice appearance at a DoE school closing hearing. We'll be hearing more from him in the National Public Education Network -- and writing more about him. Contingent faculty can learn from his ideas on grassroots education organizing, which were influenced by Ella Baker.



We'll post the others as soon as they are available. Until then, we're opening with #3,

Charter Schools:

North Carolina writer and activist Jeff Bryant hosts a discussion that includes New Orleans parent activist Karran Harper Royal, New York teacher and blogger Gary Rubinstein, and Connecticut writer and activist Wendy Lecker.

The video starts 10 minutes in ~ preceded by NPE videos, well worth watching.

...and then moving to session #4, Authentic Reform Success Stories, led by Network for Public Education executive director Robin Hiller and including New York teacher and activist Brian Jones, and author of Beyond the Education Wars: Evidence That Collaboration Builds Effective Schools, Greg Anrig.