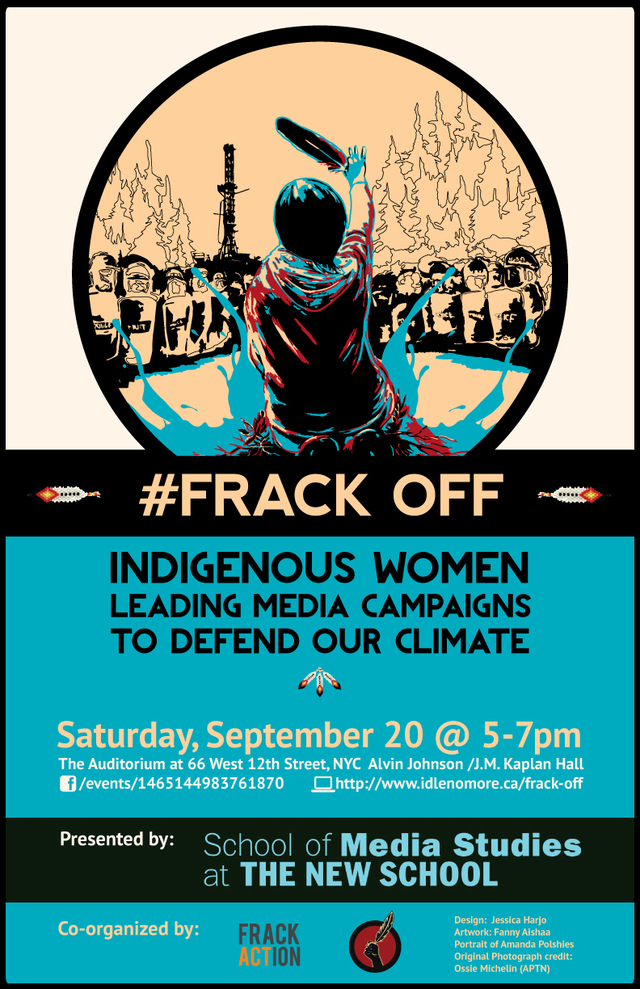 #FrackOff (video of September 20 livestreamed event) features activists Shelley A. Young, Kandi Mosset, Elle Maija Tailfeathers, and Ellen Gabriel who will discuss high-profile media campaigns by indigenous groups in Canada and the United States that protest the oil and fracking industries and the ongoing governmental violations of Tribal sovereignty and treaty rights.
Sponsored by the School of Media Studies and co-organized in collaboration with Idle No More and Frack Action, a leading New York-based organization working for a statewide ban on fracking as a part of Climate Action Week at The New School. The New School demonstrates our commitment to climate action and our solidarity with people converging on New York City for the historic People's Climate March on September 21 with a week-long series of events focused on climate change.


As a leader and official endorser of the March, The New School's Climate Action Week includes a diverse set of programming directed towards the university and wider community for enriched learning and engagement opportunities, scholarship, innovation and creativity, solidarity and collective action, and highlighting New School's values around climate justice and action.
Links


Disruption
'When it comes to climate change, why do we do so little when we know so much?'
Through a relentless investigation to find the answer, Disruption takes an unflinching look at the devastating consequences of our inaction.
The exploration lays bare the terrifying science, the shattered political process, the unrelenting industry special interests and the civic stasis that have brought us to this social, moral and ecological crossroads.The film also takes us behind-the-scenes of the efforts to organize the largest climate rally in the history of the planet during the UN world climate summit.
This is the story of our unique moment in history. We are living through an age of tipping points and rapid social and planetary change. We're the first generation to feel the impacts of climate disruption, and the last generation that can do something about it. The film enlarges the issue beyond climate impacts and makes a compelling call for bold action that is strong enough to tip the balance to build a clean energy future.
"DISRUPTION" - a film by KELLY NYKS & JARED P. SCOTT
from
Watch Disruption
on
Vimeo
.
Premiered September 7th @
watchdisruption.com
- 52 min.
Join the Peoples Climate March
, September 21st @
peoplesclimate.org
© 2009 MY PLANET – ELZEVIR FILMS. Courtesy of Yann Arthus Bertrand. * Additional Footage Courtesy of Greenpeace International, Dahlman/Cook Productions, Richter Productions, Mike McSweeney, David Ohana, Casey Neistat, John Mattiuzzi, Eric Feijten, Randy Scott Slavin. * Special Thanks to 350.org and Jon Warnow [complete thanks in end credits]