There may be other NFM members presenting in addition to

Debra Leigh Scott

and

Joe Berry

. If so, please let me know. Looking for panels to follow? A number of the Education track panels should be interest. The Left Forum page also has search for tracking down topics and speakers. For those not in attendance, I'll be following as best I can on twitter, hoping for both good turn out reporting back and presentations being available post-conference.



The panel will investigate some of the many ways we are pushing back against the corporate colonization of academic culture. Fighting to raise awareness of the issues through documentaries and art-making will be discussed by the writers and filmmakers on the panel. Working to return professional stature, governance and economic justice to the migrant adjunct faculty within traditional academic institutions will be discussed by members of NFM. Creating new models of higher education - like the free university movement, open sourceware opportunities and peer-to-peer educating - will be examined for its benefits and game-changing possibilities.



For-profit universities have been in the news a lot recently, chiefly for sleazy and sometimes illegal practices. Since they now enroll more than 10% of college students in the U.S., since their rapid growth parallels the commercialization of traditional universities, and since their competition is hastening that process, they should be understood as one thread in the fabric of gonzo capitalism, not a marginal aberration.

The Spring 2012 issue of Radical Teacher is about the commercializing of higher education. Susan O'Malley and Richard Ohmann edited the issue and Joe Berry, who has taught at a for-profit and is involved in organizing for-profit faculty, wrote for the issue. Confirmed speakers will be Joe Berry, Richard Ohmann with Susan O'Malley chairing the panel.
Peter Fettner

recommends two panels hosted by Dissent Magazine on debt serfdom (Friday night, Schimmel, Opening Plenary) and organizing precarious labor (Session 2, E307, Sat 12:00pm - 01:50pm; co-hosted by Verso Books).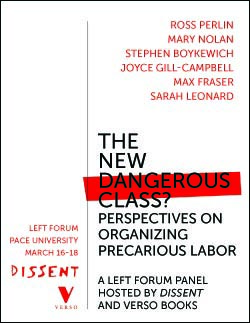 Work in the 21st century has been described as unstable, decentralized, precarious. How can workers organize under conditions of "flexible" employment, or gain leverage against an ever-changing boss? What will organizing look like in the face of massive shifts in risk to the backs of workers? All kinds of workers face these conditions, from home care workers, whose recent victories in New York State have challenged the impossibility of rallying those particularly vulnerable to hidden exploitation, to the "knowledge workers" who make up the Freelancers Union. These panelists will discuss the changing face of organizing in the face of the changing nature of work.