Yesterday, November 17, was a Global Day of Action, which may seem to have come too close to Oct 7th for some. Maybe it's a generational thing, whether attention span, age thing or tiring more easily than the students. You can still follow the action at Defend Education, Global Wave, on Twitter and at various blogs.
The university is conflicted: nor is anyone ~ students, staff, faculty, techs. researchers, managers ~ in it immune. Does it have to be an either/or when it comes to aligning ourselves with either the suits at conferences or bullhorns in the streets. Wherever individual sympathies lie, we must ~ in my personal opinion ~ listen to / work with both (however long a spoon that may call for), cannot ignore either.
The 2nd Annual SEIU Forum on Part-Time Faculty Unions is this coming Saturday, Nov 19, ~ D.C. in case you're in the neighborhood. AAUP Shared Governance Conference (with workshops) was last weekend, Nov 12-14. Reports in my RSS reader await an ever dwindling attention span. In today's mail, a reminder from the "National Center for the Study of Collective Bargaining in Higher Education and the Professions" about its 38th annual conference, April 10-12, 2011. If there is a more ungainly acronym than NCSCBHEP, I don't want to know about it.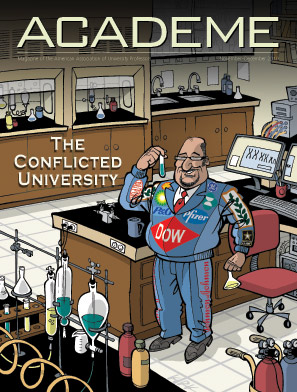 AAUP Report on October 1-7 week of action...
"From October 1 to 7, AAUP chapters and state conferences participated in the Higher Education Is a Public Good initiative, a national discussion about the role of higher education in our economy and society. The purpose of the week was to stimulate organizing at the campus level and to communicate the importance of academic freedom and an independent faculty voice. AAUP members and chapters were encouraged to organize and participate in local activities, from teach-ins to policy forums to film screenings, and to use these events to build membership in conjunction with the Association's fall membership drive.
"A national day of action to defend public education capped off the week. On October 7, AAUP chapters and individual faculty members joined student activists and organizers at rallies across the country to highlight the impact of privatization on higher education. Students, faculty, and community members gathered to bring attention and strategically respond to the increased educational costs for students and their families, the diversion of resources from instruction to administration, and the growing reliance on poorly paid and insufficiently supported part- and full-time and non-tenure-track faculty members."